Information
Origin

Brazil; Cafeina Group / Colombia; El Vergel

Cultivar/Process

Mixed/Natural & Washed

Farm/Producer

Cafeina Group, El Vergel

Type

Blend
Flavour Profile
Roast

Tasting Notes

Milk Chocolate, Caramel, Apple

Brewing Method

Espresso, Stovetop, Cafetiere
More about this coffee
Deerstalker - Blend - Brazil & Colombia
Our original house blend, Deerstalker, is as popular as it is versatile. A favourite with our customers who like milk with their brew; we also recommend it made as an espresso or with a moka pot.
With tasting notes of Milk Chocolate, Caramel, Apple, Deerstalker coffee is made using a 50/50 ratio of coffees from Brazil and Colombia. The Brazilian lot in this blend comes from a farm that is a part of the Cocatrel Cooperative in Tres Pontas, Sul De Minas, there is a group that was started in 2020 for the female farmers who are part of the Cooperative. The Cafeina Group is made up of 21% of the members of the Cocatrel Cooperative equating to 1154 women producers. The idea was to encourage the engagement of these female producers in the decision-making process of the Cooperative. They are organised to have meetings every two months to improve their education and knowledge but also to increase their visibility in the coffee growing community and promote their involvement. Iandra Vilela who is head of the Cafeina group for Cocatrel was recognised this year with an award from 'Women in Coffee' – she won it for being an inspiration to other Women in the coffee industry in Brazil!
The Colombian Lot in this blend comes from El Vergel farm in Tolima region. It is a part of their programme where they were looking to achieve higher end lots of big volumes, by getting together great producers to achieve volume and homogeneous coffee profiles. The producers Elias and Shady took care of the fermentation and drying, which allowed them to achieve consistency, clarity of flavours and more sweetness during the process. When we visited them last year, it was great to see how these two young producers put so much effort to inspire a new generation of coffee farmers and how they explore new innovations to make coffee taste even better.
Elias and Shady are producing coffees that can be seen in the world coffee competitions, but this lot for our Deerstalker is also a great representation of washed coffee (castillo/caturra) from the region of Tolima.
Buy a kilo and save pounds.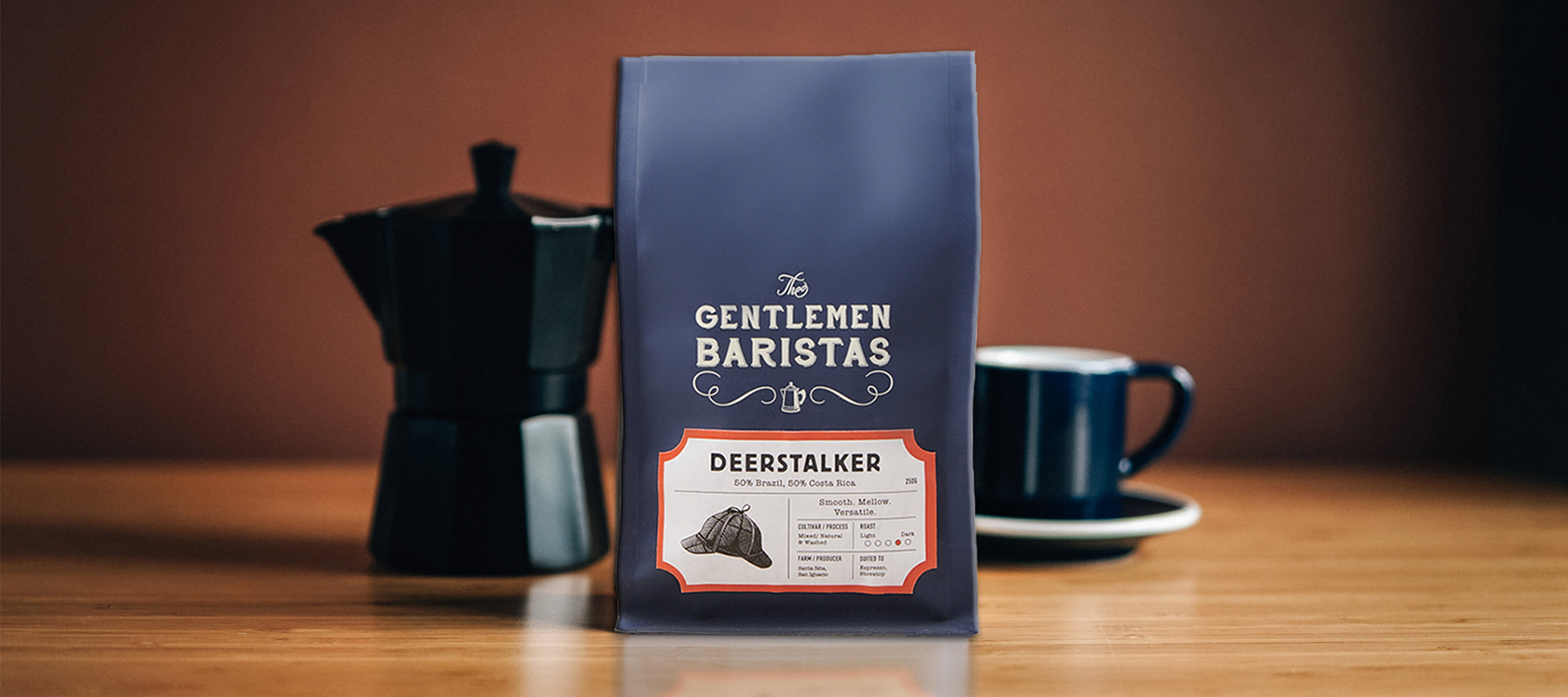 Try our subscription
WELL-MANNERED COFFEE
Your favourite Gentlemen Baristas coffee. Which hat will you choose?
DELIVERED TO YOU
When's a good time for you?
YOUR CHOICE
Beans or ground ? Pick the perfect pack for you.